Posted on 04/14/2012 04:39 pm by admin
Screening of Choi Voi (Adrift)

The Institute for Vietnamese Culture & Education (IVCE), is a New York 501(c)(3) non-profit organization that is a leader in promoting Vietnamese culture and assisting Vietnamese students study abroad in American universities.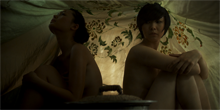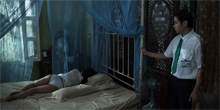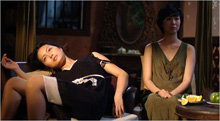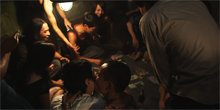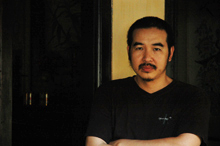 Bui Thac Chuyen
New York (April 3, 2012).
IVCE is pleased to announce the screening of a new Vietnamese film, Chơi Vơi (Adrift), directed by Bùi Thạc Chuyên.
Synopsis:
Soon after her wedding, newlywed Duyen's excitement begins to fade as she realizes her young husband is not only sexually naïve, but overly occupied by his job and doting mother. As her marriage goes unconsummated and her emotional isolation grows, she reaches out to her closest girlfriend, Cam, who secretly desires her, but pushes her into the arms of a dangerous and provocative suitor. The resulting sexual awakening and infidelity puts Duyen in a precarious love triangle, challenging her notions of conventional relationships and also the stability of her new family. Saturated with erotic tension, director Bui Thac Chuyen's sensuous and absorbing second feature traces the emotional and psychological landscapes of lust and desire, weaving an atmospheric tale of love and life in modern Hanoi. The film is among the first Vietnamese movies shot by the Red One digital technology and features scenes from Hanoi, Quang Ninh and Hoi An.
English subtitles, 110 minutes.
The Director:
Bùi Thac Chuyên was born in Hanoi, Vietnam in 1968. With his student film The Night Run (2000), his graduation project at Hanoi Academy of Theatre and Cinema, Bui Thac Chuyen won the 3rd prize in the category Cinéfoundation at Cannes Film Festival 2000. He was the first Vietnamese to win a prize at Cannes. He took part in founding the Film library and the Centre for the Assistance and Development of New Talents (TPD) in Hanoi – an important venue to attract and nurture young talents in cinema. His debut feature film Living in Fear (2006) was awarded the Asian New Talent Prize for Best Film in the 2006 Shanghai International Film Festival. Bui Thac Chuyen won the FIPRESCI prize for Adrift (2009) in the category Orizzonti at the Venice Film Festival 2011. His project Dream State has recently been awarded with the 1st prize in the Asian Film Financing Forum held in Hongkong, 2011.
Principal Cast:
Ðỗ Thị Hải Yến ( Duyen) was born in Hanoi, Vietnam in 1982. She was nominated for the Best Actress in a Supporting Role- Drama at the Golden Satellite Award (2002) for her role in The Quiet American directed by Philip Noyce. At film festivals in Vietnam she has received numerous honors and awards for her memorable role in Pao's Story (2005) including the Golden Kite and Golden Lotus Award for Best Actress. She has also starred Song of the Stork, directed by Jonathan Foo and Quang Binh (2000), and Vertical Ray of the Sun, directed by Tran Anh Hung (1999). She was a member of the International Jury for the Featured Film Competition "EurAsia" in the 10th Tallinn Black Nights Film Festival (2006), and the Meridian Film Festival (2007).
Pham Linh-Dan (Cam) was born in Saigon, Vietnam in 1974, and moved to France with her parents a year later. Her big break came in 1992 when she starred in the Oscar-winning film Indochine, playing the adopted child of a French woman in French-ruled Vietnam. Pham studied commerce at university and worked as a senior marketing manager after graduation. She has also taken an acting course at the Lee Strasberg Institute in New York.
Johnny Tri Nguyen (Tho) immigrated to America at the age of nine. Nguyen's grandfather was a renowned martial artist of his time, and Nguyen adopted the love for combative arts at a very young age. He competed in International Wushu competitions as a member of the USA national team. Following several successive championships, he moved to Los Angeles and a career as a Hollywood stuntman. He worked on major blockbusters including Spiderman 1 and 2 as the man in the mask himself. In striving to push his career to the next level, he sought lessons from famed Hollywood acting coaches for several years. In 2004, he was invited to Thailand to play opposite Tony Jaa in hit martial arts movie, The Protector (Tom Yum Goong), after which, he returned to Vietnam and has since starred in several feature films including some that he co-wrote, produced and directed such as The Rebel (Dong Mau Anh Hung) and Clash (Bay Rong).
"… a subtle, melancholy exploration of erotic angst and uncomfortable awakening….evokes a culture whose puritanical restraints have begun to loosen, allowing dangerous sparks to fly…" Stephen Holden, New York Times >> see full review. [ http://movies.nytimes.com/2010/01/18/movies/18adrift.html ]
To order Vietnamese DVD Movies, http://www.ivce.org/book.php?bookid=MS00000003
A discussion with director Mr. Bui Thac Chuyen will follow each screening.
2.00pm, Sunday April 8th, 2012
Room 6-120. 77 Massachusetts Ave, Cambridge
MIT
Admission: $5 general public
Contact: Quynh Huynh, nhuynh@MIT.EDU
7.30pm, Monday April 9th, 2012
Cleveland L1
Mount Holyoke College
Admission: free
Contact: Quynh Ngo, ngo22q@mtholyoke.edu
7.30pm, Tuesday April 10th, 2012
Theater 190, Film Studies Department. 301 Washington Terrace
Admission: $5 general public
Wesleyan University
Contact: Dat Vu,< a href ="dvu@wesleyan.edu"> dvu@wesleyan.edu
7.00pm, Wednesday April 11th, 2012
Room 106, 212 York Street
Yale University
Admission: free
contact: Kristine Mooseker, kristine.mooseker@yale.edu
7.00pm, Thursday April 12th, 2012
Williams Room 204. 36th St and Spruce St
University of Pennsylvania
Admission: free
Contact: Minh Nguyen,minhn@wharton.upenn.edu
7.00pm, Friday April 13th, 2012
Letelier Theater. 3251 Prospect Street, NW Upper Courtyard
Washington D.C
Admission: $15
Contact: IVCE, (860)478-0518,nhipsong@ivce.org
7.00pm, Saturday April 14th, 2012
Room 200. Cantor Film Center, 36 East 8th Street & 5th Ave, New York City
New York University
Admission: $15
Contact: IVCE, (860)478-0518,nhipsong@ivce.org
2.00pm, Sunday April 15th, 2012
Mathey-Rocky Theater
Princeton University
Admission: free
Contact: Thuy-Tien Tran, tvtran@princeton.edu
IVCE greatly appreciates the collaboration of various Southeast Asia Studies Centers and Vietnamese Student Associations throughout the United States. IVCE has been coordinating valuable Vietnamese cultural programming, including traditional & contemporary music, poetry & literature, film, folk & contemporary painting exhibitions, as well as history seminars for the past several years.
IVCE would also like to recognize the foundations, organizations, and individuals who have made generous contributions to IVCE's cultural and educational programs. Their gifts have enabled IVCE staff to plan and execute many programs aimed at raising awareness about Vietnamese culture and expanding the educational opportunities of Vietnamese students. We sincerely hope that the example set by these donors will inspire all of you out there to give financially to IVCE, so that we can continue the work of promoting Vietnamese culture and education in the U.S. and abroad. http://www.ivce.org/support.php
Sincerely,
IVCE